Ravi Kabara :
Founder & Managing Partner
Ravindra (aka Ravi) Kabara is a Mechanical Engineer from College of Engineering, Pune; a Post Graduate in Marketing Management from SCMHRD, Pune and has a Certificate in Strategic Brand Management from IIM-Kolkota, with extensive professional Marketing and Business Management experience of over two decades. His expertise is in the areas of Strategy- Business, Marketing & Brand, Design, Brand & Product Management,  Communication strategy and implementation, Media strategy and implementation, Branding and Brand Experience, Business Planning, Business Development, Regional Business Management, Sales, Retail, Events and Retail network development.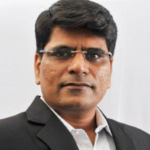 Ravi has spent a significant time in his career both on the client side with a large corporate and on the agency side with India's leading agency. He has worked with several large clients across industries and categories. Ravi specializes in business' front end- in the area of building brands and consumer-centric strategy development and execution.
Ravi founded Krreativ Strategic Consulting LLP with a mission to make available top quality brand & marketing knowledge and practices to companies that do not have access to senior talent and best practices. He is driven by the passion to help every company improve customer value through great brand and consumer experience, whatever the category or scale.
Ravi's knowledge of what works and what doesn't as well as how to scale up business operations effectively, through his hands-on practical cross-category learnings and functional expertise, will be of great value to Krreativ's clients. He has been a Guest faculty at IIM-Ahmedabad for "Brand Experience" and Speaker at various industry conferences.